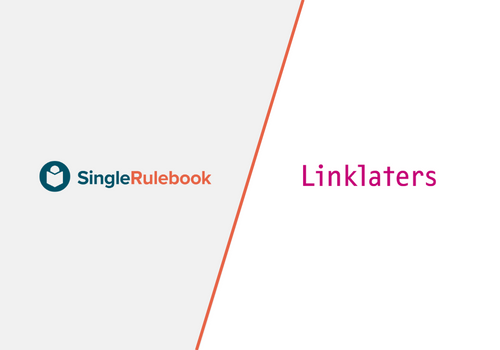 Single Rulebook and Linklaters join forces to launch Law Compare
London, 24 April 2023 – Single Rulebook, a leading integrated software platform for the management of regulatory rules, and Linklaters, a global law firm focused on bringing legal certainty in a changing world, today announced the launch of Law Compare. The new service is an intuitive online tool, which helps lawyers view, compare and annotate UK versions of financial services legislation alongside the equivalent EU rules in order to manage the divergence of once-harmonised regulation.
Law Compare has been developed by Single Rulebook for Linklaters in order to support in-house teams and gives Linklaters' clients access to comparisons and guidance on the EU and UK MiFID II regimes quickly and efficiently.
The online tool provides a single authoritative source of the most up-to-date regulation and guidance, and offers full coverage of EU and UK MiFID II regimes, from Directives, Regulations, Regulatory Technical Standards to Level 3 guidance, with the potential to extend to other areas of regulation. The legislation hosted on the Single Rulebook platform is complemented by Linklaters' guidance which provides an invaluable record of the firm's legal views, interpretation and comments relating to specific provisions and areas of EU-UK divergence.
Pansy Wong, Financial Regulatory Partner at Linklaters said: "I am thrilled to be launching this innovative product, which is truly market leading in its capability and offering. Linklaters Law Compare offers a valuable collaborative solution with a better overall user experience when navigating regulatory divergence across the EU and UK. We believe this technology will form a crucial part of legal compliance toolkits post-Brexit. This tool is further evidence of our commitment to helping our global clients stay ahead of a rapidly changing regulatory framework in the EU and UK."
Chris Dingley, CEO of Single Rulebook commented: "We are delighted to have joined forces with Linklaters to launch Law Compare, a new regulatory comparison tool, on our platform.  The new tool provides Linklaters' clients with a dynamic comparison of diverging EU and UK regulation, as well as changes in regulatory texts over time.  Combining Linklaters' legal and regulatory expertise with our award-winning technology and platform creates a unique solution for managing regulatory change."
(ends)