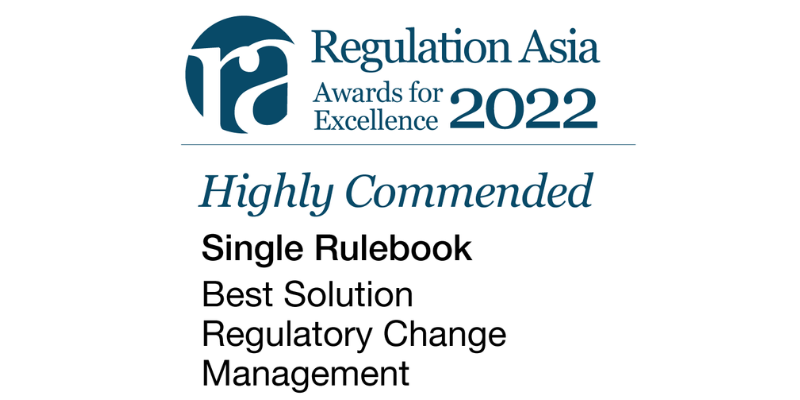 Single Rulebook 'highly commended' at the 5th Regulation Asia Awards for Excellence 2022
London, 24 November 2022 – Single Rulebook, a leading and integrated software platform for the management of regulatory rules, has been 'highly commended' at the the 5th Regulation Asia Awards for Excellence 2022 for its ability to provide a single digital source for regulatory research, easing the burden on legal and compliance teams seeking to track and comply with changing regulations.
The Regulation Asia Awards for Excellence are held each year to recognise excellence by firms that help to ensure the highest compliance standards are upheld in the financial industry, and those that have shaped the regulatory landscape in Asia Pacific.
An editorial team and external judging panel comprising subject-matter experts from banks, associations, law firms, consulting firms and academia assess and score each submission based on pre-set criteria, based on the submissions, interview data and other supporting materials.
Single Rulebook's easy-to-use platform and powerful search functionality allows firms and clients to find the right regulation or information they are looking for quickly and efficiently. Single Rulebook's annotation feature also provides a platform for teams and organisations to share interpretations on regulation by adding comments and notes to specific rules and articles.  From building a regulatory change management framework to tracking and auditing decision making on important regulations, Single Rulebook is helping transform the way the industry manages regulation.
Chris Dingley, CEO of Single Rulebook, commented: "We are delighted that a panel of independent judges has highly commended Single Rulebook's digital technology for the role it's playing in helping legal and compliance professionals manage regulatory change."